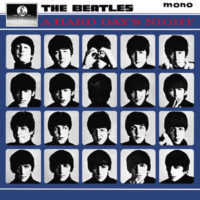 "A Hard Day's Night" explodes out of the gate and is an interesting type of song in that it doesn't fit the normal formula of verse-chorus-verse. It is impossible not to love. The mix of Lennon and McCartney's voices brings an entirely new Beatles to the forefront. And they don't stop their insane pace of hard-charging rock songs like "Tell Me Why"
And, this album is the first to have no cover songs. It's 100% The Beatles.
"I Should Have Known Better" is simple and wonderful. The quality of a song can be pretty easy in that the measure being — walk away from a song for five minutes and see how much of it you can remember singing in your head. This album is filled with unforgettable songs.
The Beatles perfect the ballad with "If I Fell" and "And I Love Her."
"Can't Buy Me Love" is another track that shows the sky was the limit for The Beatles.
"You Can't Do That" and "I'll Be Back" round out what is a really strong album.