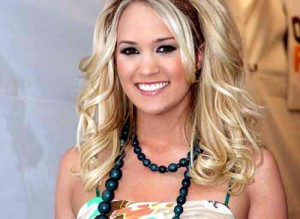 Six weeks since the release of country superstar Carrie Underwood's new album Play On, which has yielded the #1 hit, "Cowboy Casanova," and brand-new heart-wrenching single, "Temporary Home," the reigning ACM Entertainer of the Year received an early holiday surprise. Billboard announces that Carrie's Some Hearts is the Top Country Album of the Decade.
Also included in Billboard's year-end special double issue is the acknowledgement that her feisty smash, "Before He Cheats" (#8), is the only female showing in the Top 20 Hot Country Songs of the Decade.
The 19 Recordings/Arista Nashville hit-maker's TV appearances this week include an encore airing of, "Carrie Underwood: An All-American Holiday Special" on Fox, Tuesday, December 22, 8-10 pm/7-9 pm Central and "A Home For The Holidays" on CBS, Wednesday, December 23, 8-9 pm/7-9 pm Central. On both shows, she will perform her current single, "Temporary Home," which she co-penned with Luke Laird and Zac Maloy.
A four-time GRAMMY Award winner, ACM Entertainer of the Year, and reigning, three-time CMA and ACM Female Vocalist winner, Carrie's Play On re-teams her with producer Mark Bright, who helmed her Carnival Ride collection as well as seven tracks from her 2005 album debut, Some Hearts. To date, Underwood has amassed more than 11 million in U.S. album sales with Some Hearts, 2007's Carnival Ride and 2009's Play On. Along the way, she has consistently broken new ground and earlier this year became the first country artist in history and the only American Idol winner ever to achieve ten #1 singles from their first two albums. When "Cowboy Casanova," the debut single from Play On, recently achieved #1, Carrie's string of uninterrupted #1s increased to 11.