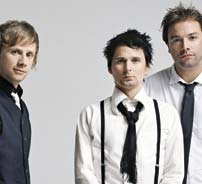 Yes, I like to complain. But only about things I'm passionate about. I went onto NME.com and read that Muse covered the Hendrix version of "The Star Spangled Banner" and Nirvana's "School" and couldn't help but wish I could see or hear them.
If the music industry was smart they'd have someone recording these cool moments professionally and releasing them as iTunes tracks or directly on the band's website–or both. I'd buy this things like crazy. Just like when I heard Travis cover Britney Spears' "Baby One More Time" years ago. These are brilliant moments only left for people in attendance to enjoy. What a massive waste that such brilliance gets lost after the moment is over.
And if you care–here is Travis covering Britney.