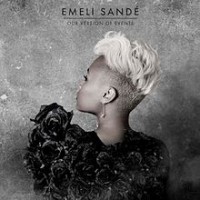 After playing Chicago last night for the first time and returning to Los Angeles at the El Rey tomorrow night, UK sensation Emeli Sandé will hit New York City next week to celebrate the Capitol Records release of her debut album Our Version of Events in the U.S. on June 5th. The Scottish-born singer and songwriter will perform her single "Next To Me" on Live! with Kelly on June 7th. She will also play two live shows: June 4th at the Bowery Ballroom, which is sold-out, and a newly added show on June 5th at The Music Hall of Williamsburg, where she wowed crowds in April.
Also in June, Emeli will be spotlighted on both MTV, as one of its "Push" artists with the channel airing interviews and videos across all of its platforms for a week, and on VH1 in Gung Ho rotation and as its "You Oughta Know" artist for the month of June. Previous "You Oughta Know" artists include Adele, Amy Winehouse, Bruno Mars, and Mumford & Sons. Finally, Emeli will be featured in the summer campaign for mtvU's "Freshman Five," in which MTV's college network highlights five up-and-coming artists who are primed to jump from campus favorites to household names.
Emeli will return to the U.S. in July to open for Coldplay on their summer arena tour. She has also been nominated for a BET Award for "Best International Act: UK." The awards will be handed out live in Los Angeles on Sunday, July 1st, beginning at 8 pm. In September, Emeli will perform one night of the month-long iTunes Festival taking place at the Roundhouse in Camden, London, along with Usher, Jack white, Norah Jones, One Direction, and others.
Our Version of Events, which debuted on the UK Album chart at No. 1 in late February and just returned to No. 1 again this week, is a powerful platform for Emeli's rich, soulful voice and sophisticated songwriting. As Q magazine put it: "She's made an album that deserves to linger in the limelight — passionate, powerful, and possessed of real star quality." A heady and complex soundscape to showcase her towering talent, Our Version of Events is rife with raw emotion, while bearing a sharp and shining retro-futurist feel.
Here's what U.S. critics have had to say so far:
Emeli Sandé has developed a signature style of her own, one retro-raw with a futuristic shimmer… showcasing a mélange of influences from Nina Simone and Tracy Chapman to Portishead and Virginia Woolf." – Interview
"What makes Emeli Sande so captivating is her passion. It resonates loudly through her vocal prowess." – Billboard.com
"a neuroscientist with pop-star talent…ties together soul, electronic music, pop and rock with sharp, literate songwriting"
– Chicago Tribune
"This album is awesome." – Glamour
Emeli's upcoming tour dates are as follows:
06/01 Los Angeles, CA El Rey
06/04 New York, NY Bowery Ballroom
06/05 Brooklyn, NY Music Hall of Williamsburg
Emeli's tour dates opening for Coldplay are as follows:
07/23 Toronto, ON Air Canada Centre
07/24 Toronto, ON Air Canada Centre
07/29 Boston, MA TD Garden
07/30 Boston, MA TD Garden
08/01 Detroit, MI Palace of Auburn Hills
08/03 E. Rutherford, NJ Izod Center
08/04 E. Rutherford, NJ Izod Center